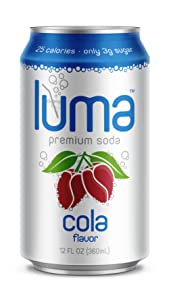 Luma Cola was produced by Californian Luma Soda in 2016-2019. The Luma sodas where sweetened solely with monk fruit and honey.
Apparently it was too much of an acquired taste and the repeat sales where as low as 10 %.
In 2019 founder Jim Otteston appeared in an episode of the American TV-show Shark Tank where he sought $500.000 for 20 % of the company. Unfortunately none of the five investors took sufficient interest in Luma Soda and the company shut down shortly after.